What is Reiki?
Reiki (pronounced Ray-key) is a Japanese word meaning Universal Life Energy. Reiki is healing energy in its truest sense. It helps to activate your body's natural ability to heal itself.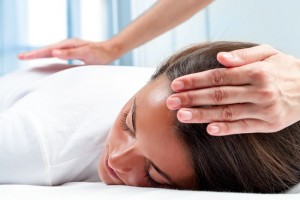 The physical body is energy, which vibrates according to wavelength frequency. If these waves are imbalanced there will be a direct influence upon the cells of the body in that area. They are unable to function properly and eventually disease and illness will be experienced.
If we restore harmony to the frequency of the wave and thus to the cells, the body's own healing abilities are able to operate more effectively, therefore health will improve. Harmony allows for the free flow of energy through the bodily systems.
Reiki energy has intelligence and it always knows where to go and on what level the healing energy is needed. That could be on a physical, emotional, spiritual or psychological level. It is drawn from the givers hands by the receiver, who will take as much or as little as is required at that time. You cannot give or take too much. Reiki is always safe to use and complements conventional medicine as well as all other complementary therapies. Receiving Reiki is a calming experience that relaxes us and acts as a great stress release therapy. Reiki can help improve;
Stress related conditions
Self confidence/self esteem
skin conditions
insomnia
migraine
the grieving process
past emotional scars
fears/phobias
A Reiki Healing session
The method of receiving a Reiki healing session from a practitioner is a very simple process. The recipient sits/lies on a couch and relaxes. There is no need to remove any clothing, as Reiki will pass through anything, even plaster casts. During the session I gently place my hands non-intrusively in a sequence of positions, which cover the whole body. The whole person is treated rather than specific symptoms.
Reiki is a healing system that is safe, natural and is a holistic way of bringing about spiritual, mental and emotional well-being. Acute injuries can be helped to heal very quickly but more chronic illness takes longer. I believe that a course of 4 treatments in a row can improve most conditions. Some of my clients come every so often to relax and destress.
Testimonial
"I went to Catriona for Reiki treatments when I was under severe college exam pressure. I was having pains in my stomach possibly due to the stress I was under & I also was having problems sleeping. Catriona was absolutely excellent,we discussed what I wanted from my session before we started & I got huge relief from every treatment I had with her, it was a lovely experience. I felt so relaxed, energized and positive again! My stomach pains went away & I got back into my normal sleep pattern. Catriona is sincere and so easy to talk to." Helen – Kilkenny
Prices
50 euros (treatment 1 hour) – (There is a 2 euro extra charge when paying by card)
Address
2 Presentation Place, Tullow Street, Carlow Town, located opposite the side door of Carlow Library down from Fresh Bites straight across the road from Whites Pharmacy Tullow Street.
Opening Times
By Appointment
Call Me for information or booking on 087 6416322 or Email: cmvitality@gmail.com
Gift Vouchers Available online https://www.catrionamulhall.com/shop/
Address
2 Presentation Place, Tullow Street, Carlow Town, R93CC02 – Located opposite the side door of Carlow Library down from Fresh Bites.
Opening Times
by Appointment
Call/Text Me for information or booking on 087 6416322
Gift Vouchers Available online https://www.catrionamulhall.com/shop/
Principals of Reiki
Just for Today I will not Anger – Anger is an emotion that is experienced because of the past; it can often be suppressed and carried through life. This principal does not say do not anger tomorrow, but rather just for today – choose to let your anger go, live in the now, not the past.
Just for Today I will not Worry – Worry is related to perceptions of the future – the what if's of the world, what if it will/will not happen. What purpose does this serve? Why worry about that which has not and probably won't happen. Live in the now not the future.
Just for Today I will not Fear – Live in the now.
Honour your Parents, Teachers and Elders – Appreciate and live in the now.
Earn your Living Honestly – To honour brings satisfaction, value and respect of what one does today, not yesterday, not tomorrow, but today.
Show Gratitude to Every Living Thing – We are all part of a whole, not better, not lesser, but a part of. Any cruelty, be it towards another human, an animal, a plant is showing cruelty to oneself and to all else that exists.
Reiki is a way of life. Try choosing one each day and live by it, understand it's meaning, implication and place in your life.