What is Reiki?
Reiki (pronounced Ray-key) is a Japanese word meaning Universal Life Energy. Reiki is healing energy in its truest sense. It helps to activate your body's natural ability to heal itself.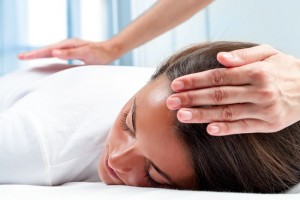 Reiki energy has intelligence and it always knows where to go and on what level the healing energy is needed. The energy goes to the deepest level's of a person's being, where illnesses have their origin. It releases blocked energies, cleansing the body of toxins and working to create a state of balance. Reiki is always safe to use and complements conventional medicine as well as all other complementary therapies. Receiving Reiki is a calming experience that relaxes us and acts as a great stress release therapy.
During a Reiki treatment we concentrate on balancing the seven chakras down the body. Each chakra is energetically connected with an Endocrine gland or an organ in the body. When the Chakras are balanced we experience balance and health physically, mentally and emotionally.
A Reiki Healing session
The method of receiving a Reiki healing session from a practitioner is a very simple process. The recipient sits/lies on a couch and relaxes. There is no need to remove any clothing, as Reiki will pass through anything, even plaster casts. During the session I gently place my hands non-intrusively in a sequence of positions, which cover the whole body. The whole person is treated rather than specific symptoms.
Reiki is a healing system that is safe, natural and is a holistic way of treating many acute and chronic conditions and can help to bring about spiritual, mental and emotional well-being. Acute injuries can be helped to heal very quickly but more chronic illness takes longer.
Testimonial
"I went to Catriona for Reiki treatments when I was under severe college exam pressure. I was having pains in my stomach possibly due to the stress I was under & I also was having problems sleeping. Catriona was absolutely excellent,we discussed what I wanted from my session before we started & I got huge relief from every treatment I had with her, it was a lovely experience. I felt so relaxed, energized and positive again! My stomach pains went away & I got back into my normal sleep pattern. Catriona is sincere and so easy to talk to." Helen – Kilkenny
Cost per session – 40 euros (1 hour) – special offer until 1st March (thereafter 50 euros per hour)
Address
The Wellwood Centre, Wells, Bagenalstown, Co. Carlow. Eircode R21N624.
Directions – http://catrionamulhall.com/ contact-us /
Opening Times
Monday – Saturday By Appointment
Call/Text Me for information or booking on 087 6416322
Gift Vouchers Available