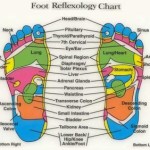 Foot Reflexology is based on the principle that there are reflex areas in the feet, which correspond to all of the glands, organs and parts of the body. Stimulating these reflexes can help many problems in a natural way.
Reflexology improves all of the body's functions, and this, in turn, encourages the natural healing process to work that more speedily and efficiently.
Health Benefits of Reflexology
Restores Balance and Well-being
Improvement of symptoms such as ; Constipation, Migraine, Sciatica, Sinusitis, Tension Headaches
It can help to reduce anxiety, depression or stress
Improvement in Menstrual/Gynaecological conditions – both female and male.
It can in some cases improve fertility and can be used in conjunction with IVF to relax the body and mind
Revitalises Energy
In pregnancy it is known in some circumstances to help

nausea and vomiting
Back Pain / Sciatica
Leg Cramps
Constipation
Heartburn
Haemorrhoids
Sleeping problems
Varicose veins
Pelvic Pain and Symphysis Pubis Dysfunction

 Easier birthing / delivery / post-partum recovery
Testimonials
Reflexology during pregnancy "helped with all the niggling aches and pains as I got bigger. It was an hour a week where I could relax. Made me feel weightless" LW – Kilkenny
"I attend Reflexology treatments with Catriona on a monthly basis to maintain good health and for relaxation. Some time ago I bruised my rib cage. Breathing was shallow and painful, so I went to the Doctor who prescribed painkillers. I booked a treatment with Catriona the next day and my breathing improved straight after the session and there was considerably pain. The bruises were also gone within a few days. All without even touching the pain killers. I would highly recommend Catriona and Reflexology to anyone, it's a true blessing!" Gabi – Kilkenny
"I initially attended Catriona over two years ago to help me relax and reduce my stress levels.  When my husband and I went for our third IVF cycle, Catriona was of great help to me preparing my mind and body.  After each session with Catriona I felt mentally rejuvenated and stronger, during the session I found myself relaxed and my mind became peaceful and focused.  During my pregnancy, I found reflexology helped ease the general aches and pains associated with pregnancy and also my swollen hands and feed towards the end of my pregnancy. Catriona is extremely talented in her profession and she is also a very kind and caring woman. If you are thinking of trying reflexology and are in the area I would definitely recommend using Catriona"  Laura – Carlow 
Cost of treatment
Prices
50 euros (treatment 1 hour) – (There is a 2 euro extra charge when paying by card)
Address
2 Presentation Place, Tullow Street, Carlow Town, located opposite the side door of Carlow Library down from Fresh Bites straight across the road from Whites Pharmacy Tullow Street.
Opening Times
By Appointment
Call Me for information or booking on 087 6416322 or Email: cmvitality@gmail.com
Gift Vouchers Available online https://www.catrionamulhall.com/shop/
I am a Member of the Institute of Reflexologists of Ireland https://www.reflexology.ie/, Membership No.5007 Approved by Health insurers. Receipt claims depending on your health plan.
Address
2 Presentation Place, Tullow Street, Carlow Town, R93CC02 – Located opposite the side door of Carlow Library down from Fresh Bites.
Opening Times
by Appointment only
Call/Text Me for information or booking on 087 6416322
Gift Vouchers  online https://www.catrionamulhall.com/shop/