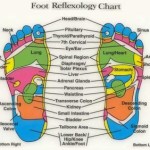 Foot Reflexology is based on the principle that there are reflex areas in the feet, which correspond to all of the glands, organs and parts of the body. Stimulating these reflexes can help many problems in a natural way.
Reflexology improves all of the body's functions, and this, in turn, encourages the natural healing process to work that more speedily and efficiently.
Health Benefits of Reflexology
Restores Balance and Well-being
Improvement of symptoms such as ; Constipation, Migraine, Sciatica, Sinusitis, Tension Headaches
It can help to reduce anxiety, depression or stress
Improvement in Menstrual/Gynaecological conditions – both female and male.
It can in some cases improve fertility and can be used in conjunction with IVF to relax the body and mind
Revitalises Energy
In pregnancy it is known in some circumstances to help

nausea and vomiting
Back Pain / Sciatica
Leg Cramps
Constipation
Heartburn
Haemorrhoids
Sleeping problems
Varicose veins
Pelvic Pain and Symphysis Pubis Dysfunction

 Easier birthing / delivery / post-partum recovery
I am a Member of the Institute of Reflexologists of Ireland https://www.reflexology.ie/, Membership No.5007 Approved by Health insurers. Receipt claims depending on your health plan.
Call Me for information or booking on 087 6416322 or Email: cmvitality@gmail.com