Ladies Only
Indian Head Massage is based on acupressure massage, and its benefits are felt throughout the body. While you are sitting, the upper arms, shoulders, neck, head and face are massaged to promote relaxation and relieve tension.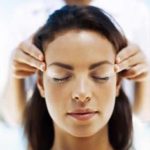 Indian Head Massage is excellent for:
Neck and shoulder tension, tension headaches, sinus symptoms and eyestrain.
It relieves pain and fatigue.
It aids clarity of thought and concentration and relieves mental strain.
It increases feelings of well-being.
It helps to reduce stress.
Cost of treatment
30 euros (treatment is approx. 30 minutes)
Treatment Combo (75 minutes)
Indian Head Massage with Craniosacral Therapy/Massage/Reflexology/Reiki – 50 euros
Testimonial
"I have had several treatment sessions with Catriona and I find it to be so beneficial and it has improved my symptoms of a painful neck and shoulder. I would highly recommend Catriona and her treatment room in the Wellwood Centre. It makes you feel like you are on a retreat or a luxurious spa. It's well worth a visit Siobhan very happy customer" Siobhan – Carlow
Address
The Wellwood Centre, Wells, Bagenalstown, Co. Carlow, Eircode R21N624.
Directions – http://catrionamulhall.com/ contact-us /
Opening Times
Monday – Saturday By Appointment
By Appointment
Call/Text me for information or booking on 087 6416322.
Gift Vouchers Available